Tell us about your experience at It's All About You Hair Salon.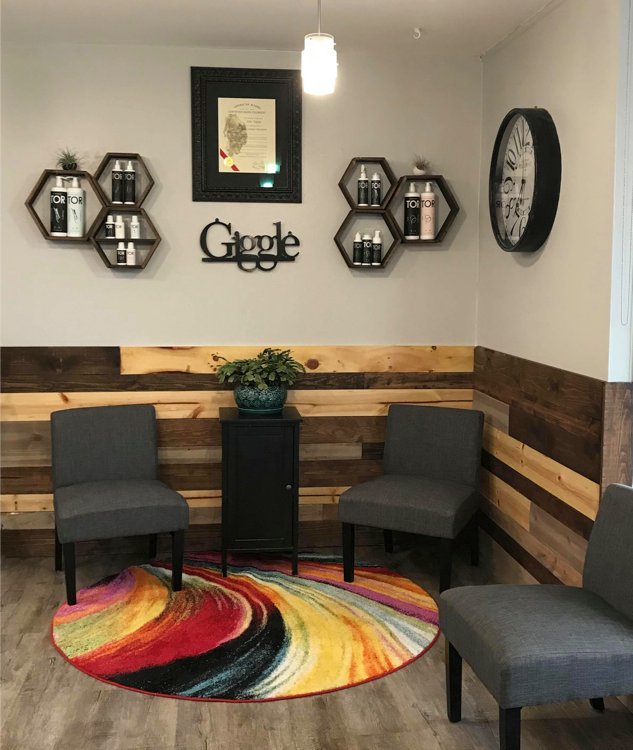 What Our Clients Are Saying...
Kim and Theresa - Thank you very much for the TLC you gave my teenage boys on Wednesday. You were both great and very patient when talking to them about what they wanted and explaining what their options were. They are extremely happy with their hair and plan to tell all their friends. It was definitely worth the drive!
Kim has been coloring and cutting my hair for 29 years. She is the best. I moved to Arizona and can't find anyone at her level of skill. She has a small shop that can compete with any of the big name salons.
Kim and her entire staff are absolutely fantastic! They have so much experience within their group and solve every hair color challenge I give them. I highly recommend checking them out!
Kim's work is AMAZING! I originally came in with broken, damaged, over processed and destroyed hair from extensions. We ended up doing a funky short and half-shaved cut. Total transformation!!! Went in for a touch up too because Kim's custom color is fabulous. I was at a loss for words. It was everything I wanted and then some. She really goes above and beyond to turn your ideas and wishes into reality. Kim is not like any stylist out there. She's a true master behind the chair and puts her heart into your hair as if it was her own!
Thank you Kim so much for giving me my amazing hair back!
Kim and Gianna are beyond amazing. I've worked in the wedding industry for years and I've never seen brides walk out of a salon looking as great as they do after trials with Gianna. Kim has taken me from a 2 to a 9 in one sitting, she's taken me to red and she's done some amazing edge work in her styling. Their professionalism and passion for hair shows in their work. I've seen a grown woman cry from joy at what Kim has been able to do. Every circumstance, every cut, every style, she puts her heart and passion to it and I've never once been disappointed. Could not recommend these two gems more if I tried. Transformation pictures to come!
I went in after a disastrous attempt to cut my own hair. Found the salon on Google, and Kim was not only was sympathetic to my situation but made me feel awesome. I love my total new look. Client for life...have been going for over six months and each time I leave very satisfied with my look.
I was a new client this weekend and couldn't be happier. Kim was so great! I felt welcomed by everyone when I came in, even the other clients. LOL. I am pretty particular because my hair is curly. Honestly, I was little anxious going somewhere new. We had a nice consultation, and the execution was fantastic. I love my cut! I now have someone I can trust to do a great job on my hair. Lastly, she was busy, yet I never felt rushed! I'm looking forward to returning. Thank you, Kim!!!
Kim and everyone at the salon are great. It's like "Cheers" only wrapped up in a salon. Kim is a great colorist and hairstylist. She listens to what your want for your hair and then provides feedback and suggestions. I don't say this often, but she's always right.
Kim does awesome highlights and hair cuts! She uses high quality products that make my hair healthy.
Kim and her stylists are AMAZING! You can't get a better experience and result anywhere else in this comfortable of an atmosphere. Kim makes you feel completely at home, like your visiting your friend and leaving looking great! Thanks Kim! For all of the fun times! I love my hair! Your a true success on my difficult, hard to get the right blonde hair!
Kim has been cutting my hair for a long time and always does an amazing job. Great experience in the salon from shampoo to consultation to color to cut. Love it here.
Kim is the best! Consults with the client first, then does her magic! Beautiful salon, great atmosphere, great products!
Kim is the best! My color always looks fantastic and she knows how to cut, shape, and tame my unruly hair better than any other stylist I've been to!